About us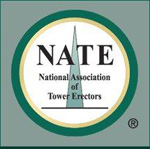 NATE member since 2001
This was a custom wind mill design microwave and two way antenna tower to match a stealth wooden water tank
Com Plus, Inc. thanks you for your interest in our company. Com Plus is a licensed California general and electrical construction company specializing in the RF industry. Com Plus, Inc carries $5,000,000.00 worth of liability insurance and State Fund covers our worker's compensation. We have been in the construction industry for over 39 years. We are ComTrain -CAL OSHA certified for tower work.
Com Plus, Inc is vendor approved for American Tower Inc, Crown Castle, NBC, CBS, ABC Disney along with many other companies.
Edward Sogge is the founder and CEO of Com Plus, Inc and is also the sole proprietor of REM Com license ROC186649 serving Arizona and Com Plus license 0069052 serving Nevada.
Com Plus, Inc Safety Policies
The cost of doing jobs safely has to be an integral part of every Com Plus, Inc quotation. We do this not only to protect our crews and company, but also to assure clients that jobs will be carried out with the least possible risk for all concerned. Our crew members have been trained in tower safety courses developed by NATE (National Association of Tower Erectors) working with OSHA and ComTrain. Our company standard for Accident Prevention Safety and Health Program for Radio, Television and Communications Tower Industry was also developed by NATE in conjunction with OSHA. They have all had EME training by video training provide by Richard Tell Associates and have vast experience working in high RF fields with personal RF monitors and RF protective apparel.
We at Com Plus are very proud of our safety record. Since I started contracting in 1970 we have never had a fatal injury and have incurred only one day of lost time due to any injury while working up on any tower. Our company standard is to have a minimum of 3 to 4 men on a tower project site to comply with OSHA safety requirements. If that is not possible, the work plan is structured so OSHA safety requirements can always be met. OSHA can contact us at any time and ask where our crews are working so they can perform job site visits. This is part of the conditions we agree to in order to hold an annual CAL OSHA permit to work in construction over 35 feet in elevation.
CAL OSHA/OSHA safety requirements specify that at any jobsite where immediate medical attention is not readily available, members of the working crew must hold current training in basic first aid and CPR. Com Plus, Inc's crew members have been trained in basic first aid and CPR and tower simulated rescue and retrained according OSHA 1926.5.
As a prospective client you should be aware that most tower companies do not hold an CAL OSHA annual permit that is required to do any work over 35-foot in elevation. These permits are not expensive but they are very time-consuming for us to provide the documentation necessary to obtain. You should also keep in mind that many of the companies who compete with us do not continually update their training and retraining in overall tower climbing safety, first aid and CPR and EME exposure hazards.
To sum up, we at Com Plus, Inc. pride ourselves on our safety record and quality of work. We appreciate any opportunity to do work for you.
Services
Communication site surveys.
Project management land use permits and site development and construction.
Electrical engineering, contracting and maintenance.
Generator service ( GENERAC Approved vendor).
Tower erection.
Tower inspection, audits, written reports, maintenance and painting crews.
Microwave antenna installation and maintenance.
Two way radio antenna installations.
Cellular, PCS and paging antenna installation and maintenance.
AM, FM and TV antenna installation and repair.
Provide training for 10 hour tower climbing techniques for Authorized Climbers, 30 hour training Competent Climbers to fulfill OSHA training requirements. Training also includes tower rescue and simulated hands on tower rescue.